I started restoring old double-hung sash windows on our 1925 Craftsman house. We bought our first home March 2015, in need of major renovation from pier and beam foundation work to all new utilities including electrical, plumbing, and central HVAC systems. With extra care taken to preserve as much original character and details such as original wainscoting, trim, wood lath and plaster walls, heart pine wood floors and of course original double-hung sash windows! I began the task of restoring the lower sash windows first, with only one large pane of glass to replace per sash versus the upper sash 12 pane windows.
With 11 double hung windows downstairs and 14 double hung windows upstairs, the project is quite large for a first-time window DIY-er. There are also the 13 double hung windows in the upstairs sunroom and just as many in the downstairs sunroom. Needless to say, there are a lot of windows in need of TLC. At this point, all lower sash windows have been refinished with new glass, putty, and paint not including the sunrooms. I began by scraping the sash windows of old paint, one coat of primer and two coats of paint with the new Sarco Glaze putty sealing the glass.
The end product is probably not quite 100% professional quality, but good enough for a DIY-er with a limited budget. Please find attached a few photos of the project, and I'll just mention the house is a still a work in progress. There are many 12 pane upper sash windows to restore in the near future, with another batch or two of putty of course. Thanks for your time, it's been a chore but a very rewarding learning process.
Photos
Before Photos – self-explanatory
During Photo – This photo shows several lower sash frames scraped with a Proscraper. After a light sanding, I used liquid epoxy and wood epoxy to fill in and strengthen portions of the frame. Once the epoxy dried the frames were ready for one coat of oil-based primer.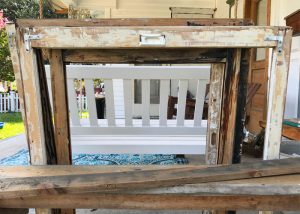 During Photo – Sarco Glaze Putty being applied to lower sash frame once the new glass is set. The frame was prepped and primed with a coat of oil-based primer to get ready for the glass to set. After paint drying time, the glass is set in a bed of putty and the exterior putty seal is being applied. Once the putty set, I cleaned up the residue with a white powder and let the putty cure for several days to ready for two coats of paint.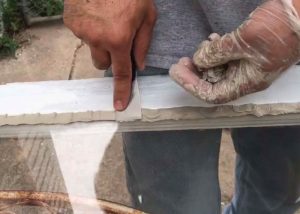 After Photos – self-explanatory